Advanced manufacturing – Fraunhofer IPK continues successful cooperation in Brazil
The Fraunhofer IPK Project Office at Instituto Tecnológico de Aeronáutica (ITA) in São José dos Campos facilitates application-oriented research and development for the Brazilian manufacturing industry.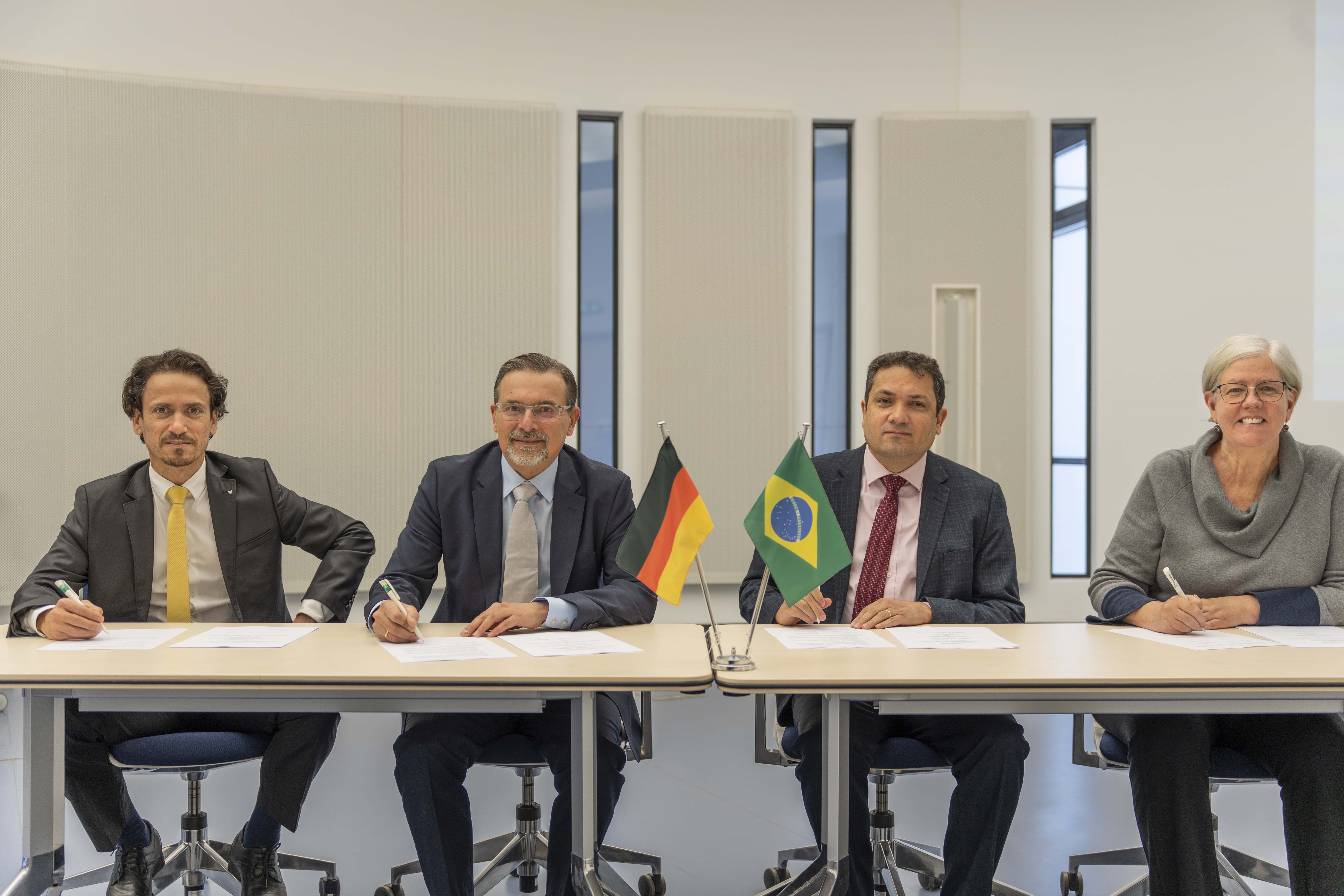 Today marks a milestone in the joint Brazilian-German efforts in industrial R&D. During a meeting at the Production Technology Center (PTZ) in Berlin, Prof. Dr. Anderson Ribeiro Correia, Rector of the Instituto Tecnológico de Aeronáutica (ITA), and Prof. Dr. Dr. Eckart Uhlmann, Director of Fraunhofer IPK, agreed to deepen the partnership between the two research organizations by officially establishing the »Fraunhofer IPK Project Office for Advanced Manufacturing at ITA«.
The project office signed into existence today follows on the heels of an exceptionally successful partnership between the German research institute with one of the top engineering schools in Brazil. It replaces the former Fraunhofer Project Center for Advanced Manufacturing at ITA (FPC@ITA), which ran from 2017 until 2021. FPC@ITA surpassed its original target project volume more than threefold, reaching around EUR 11 million rather than the intended EUR 2.6 million. In total, they carried out 51 R&D projects, 31 of which were industry projects while the other 20 were publicly funded. »Considering this extraordinary success, we are happy to extend and intensify our cooperation«, says Dr. David Domingos, Head of Operations on the Fraunhofer IPK side of Fraunhofer IPK Project Office for Advanced Manufacturing @ ITA.

One of the most longstanding joint projects just celebrated a decade of collaboration with the National Industry Confederation (CNI) and the National Service for Industrial Apprenticeship (SENAI) in Brazil. Fraunhofer IPK was hired by SENAI to develop and implement a network of 26 Innovation Institutes in Brazil, while ITA provided support regarding human resources development, offering special master and doctoral programs to the SENAI specialists. Another example of an FPC@ITA project is entitled FERA (an acronym for Additively Manufactured Tools) and seeks to increase the competitiveness of the Brazilian tooling industry. It includes 25 companies, mostly from the automotive sector, and four research and technology organizations.

Both Fraunhofer IPK and ITA with its Competence Center in Manufacturing (CCM-ITA) boast many years of experience in advanced manufacturing research, combining classic production expertise with a high degree of know-how in the so-called »digitally integrated production«. Their intended focus areas over the next years are:

Advanced manufacturing technologies
Automation technology and advanced robotics
Data analytics and AI
Industry 4.0 and digitization
Additive manufacturing technology
Prof. Dr. Ronnie Rego, Head of Operations on the ITA side of Fraunhofer IPK Project Office for Advanced Manufacturing @ ITA, emphasizes the collaborators' perfectly matched skills: »We are continuing to use our complementary competencies to jointly address the needs of the Brazilian market.« The »Fraunhofer IPK Project Office for Advanced Manufacturing at ITA« is set to run until June of 2024, according to the current agreement.